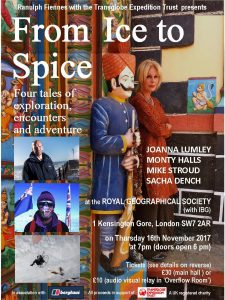 When:- 16th November 2017, doors open at 6pm for a 7pm start
Where: – Royal Geographical Society, Kensington Gore
Tickets: – £30 (main hall) or £10 (audio visual relay in the 'Overflow room')
Important: Tickets are non-refundable
To order tickets online via Paypal please click here
If you prefer, please send a cheque made payable to Transglobe Expedition Trust with your name and contact telephone number on the back together with a stamped addressed envelope to:
Transglobe Expedition Trust, Walnut Tree Farm, Benhall, Saxmundham, Suffolk IP17 1JB
All enquiries – tel: 01728 604434 or e-mail: TGExpedition@aol.com
Refreshments can be bought both before and after the talks
———————————————————————————————————-
Now in our 11th year, the Transglobe Expedition Trust (TET) evening has become a popular part of the Royal Geographical Society calendar. We aim to bring you lectures which are both entertaining and inspiring. Among our distinguished speakers each year we include at least one who has recently benefitted from a TET grant. This year is no exception. And we are delighted to have Sacha Dench with us following the very successful "Flight of the Swans" which was supported by TET in 2016. As always, we are extremely grateful to the RGS and the speakers who, with the trustees, and our generous supporter, Berghaus, look forward to welcoming you to another great evening.
Joanna Lumley – Joanna was born in Kashmir in 1946 but left before she was one at the time of Partition. Following the flag of her father's Gurkha regiment, she was educated in HongKong, Malaysia and Sussex. A brief spell as a model in the sixties allowed her to slink across into the acting profession. She has appeared in all kinds of films, from Dracula to Bond and the Wolf of Wall Street; and her many television and theatre roles have included Purdey, Hedda Gabler and Patsy. For the last 25 years she has been working in documentaries, and has travelled widely, seeing the Northern Lights and tracking the Nile to its source: relocating giraffe and releasing orang-utans; crossing Russia and Mongolia on the Trans-Siberian Railway and examining Japan from north to south. Her most recent trip has been to India, land of her birth.
Monty Halls – Monty is a former Royal Marines Officer who worked on the peace process in South Africa under Nelson Mandela. He has led a number of demanding expeditions globally, for which he was awarded the Bish Medal for services to exploration. He has presented television series for the BBC, Channel 4, National Geographic and Discovery, and has written eight books covering his travels. In 2017, Monty has filmed two series for Channel 4, the first of which is due to be broadcast in Autumn 2017. For the last two decades he has worked with companies, teams and organisations as an advisor on group dynamics and leadership, with his latest initiative being a venture to empower and encourage organisations to efficiently deliver leadership training to their own personnel. The resultant system – Leaderbox – reflects the constantly changing dynamic in the modern workplace and the ever- fluctuating modern business environment.  Monty lives in South Devon with his wife and two young daughters.
Mike Stroud –  Mike is a hospital Consultant, a Professor of Clinical Nutrition and a world authority on human endurance in environmental extremes. He qualified as a doctor in 1979 and then spent ten years in a variety of hospital posts before moving to full-time research on endurance, nutrition and survival under extreme conditions. This was undertaken between 1990 and 1995, initially at the RAF Institute of Aviation Medicine, then the Army Personnel Research Establishment and then as Chief Physiologist at the UK Centre for Human Sciences. In 1995, he returned to hospital medicine and university work becoming a Consultant Gastroenterologist in Southampton. In addition to his professional career, Mike has always undertaken far reaching travel, expeditions and endurance events including numerous polar ventures with Sir Ranulph Fiennes especially the first unsupported walk across the Antarctic continent. Mike's presentation will cover the science of endurance and survival illustrated by his own expedition and endurance experiences.
Sacha Dench – Sacha's childhood spanned the big waves and reefs off Sydney, the remote Australian bush, a large manor in Suffolk and villages in France and Switzerland. A tomboy with endless hours to herself in wild places, she developed a passion for wildlife and hatching outrageous plans. She also learnt that she could hold her breath long enough to scare people.
Bored by organised sports at school, whilst studying her Masters degree in the UK she discovered freediving. Just weeks later she was competing for the UK, and later led the Australian freediving team.  Beating the world record for breath hold (6 minutes 22 seconds) in a training session one day led to recognition and some unusual professional jobs including a dead body, an underwater bad guy in 'Home and Away' and a human dolphin for a whisky brand. Whilst stunt work was a lot of fun, Sacha also put her skills towards good causes and co-founded volunteer group 'Eco Divers', a group of divers using their bare hands and cameras to save sea life in distress. She has worked in conservation communication, including film and photography, ever since.  When invited to set up a film unit for the Wildfowl & Wetlands Trust in the UK, Sacha knew she had to get herself and her camera airborne. But to do that she would need to tackle her debilitating fear of flying head on… In her talk she will share how she went on to become the 'human swan' migrating from Russia to the UK in winter, dangling 1000s of feet in the air from a piece of fabric.
Save
Save