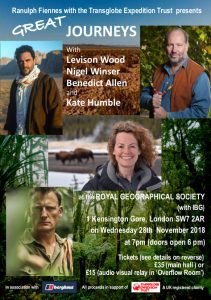 Transglobe Expedition Trust Annual Lecture Evening.
Wednesday 28th November, 2018.
@ Royal Geographical Society.
Doors open at 6pm for a 7pm start.
Now in our 12th Year we present another great line-up of speakers who have undertaken remarkable journeys. This time we focus on tropical rainforests and deserts.  Our annual evening continues to be as popular as ever.  The mix of speakers and the opportunity to mingle before and after the show with a like-minded audience of regulars and newcomers makes for a truly memorable evening. As always, we are extremely grateful to the RGS and the speakers who, with the trustees, and our generous supporter, Berghaus, welcome you to another great evening. We very much look forward to seeing you.
Levison Wood is a professional explorer, writer and photographer. Since 2014 he has had four critically-acclaimed Channel 4 documentary series, in which he has walked the length of the Nile, Himalayas and the Americas and crossed the Caucasus in From Russia to Iran: Crossing the Wild Frontier. Levison's second book, Walking the Himalayas was voted Adventure Travel Book of the Year at the Edward Stanford Travel Writing Awards and his most recent, Walking the Americas, was a Sunday Times bestseller. He is an elected fellow of the Royal Geographical Society and the Explorer's Club. He has recently completed a circumnavigation of the Arabian peninsula, taking in thirteen Middle Eastern countries, which will become a documentary series and book later this year.
Nigel Winser was born in Kenya and trained as a life scientist at Westminster University where, as an undergraduate he undertook biological surveys across the Sahara, the forests of South West Ethiopia and the riverine forests of the Tana River in Kenya . In 1976 Ran and Ginny Fiennes gave Nigel tremendous support and advice when planning the first source to sea expedition down the Tana River. He still owns the Avon Redshank Ran used on his famous Norway expedition. Since then Nigel and his wife Shane have worked with pioneers in the field- science community all their lives at the Royal Geographical Society with Directors, Dr John Hemming and Dr Rita Gardner. More recently Nigel joined Earthwatch as a facilitator of geographical research and 'citizen science' programmes worldwide. Nigel's expeditionary work included international surveys in Sarawak (Gunung Mulu National Park), north Pakistan (Karakoram), the Wahiba Sands in the Sultanate of Oman, the Badia region of Jordan and the pristine forests of Brunei Darussalam. He is currently working with teams in Sultanate of Oman, the Il Ngwesi Maasai community in north Kenya and as a Trustee of the Nekton Mission which is surveying the little know bathyal zone in the Indian Ocean (200m – 3,000m deep). Nigel has an honorary Doctorate from Westminster University and has been awarded the Patron's Gold Medal of the RGS and jointly with Shane, the Mungo Park Award of the Royal Scottish Geographical Society. He enjoys being a mentor to future field scientists seeking purpose.
Benedict Allen is particularly well known to many for his testing solo expeditions – journeys famously achieved not with a satellite phone, GPS or any of the usual "backup" but after months training with remote indigenous communities. Author, environmentalist, film-maker and international motivational speaker, the son of a test pilot, Benedict shares his father's desire to get out there on a clear mission, then report back. His philosophy is not so much about conquering nature, planting flags or leaving a mark. It's about the opposite: opening yourself up and allowing the place to leave its mark on you. Benedict's many ventures are depicted in his ten books – including two best sellers – and numerous television series for the BBC, National Geographic, Channel 5, the History Channel and elsewhere. With his usual enthusiasm and humour, Benedictisrenowned forhisskillatsharinghisadventuresandexperiencesinhisengagingstories
Kate Humble is a writer and television presenter specialising in live and factual programming. Her television series include Back to the Land, Animal Park, Arctic Live, Lambing Live, Springwatch, Yellowstone, Off the Beaten Track, Extreme Wives, and Living with Nomads & Wild Shepherdess. ShealsopresentedtheawardwinningcomedygameshowWildThings,wildlifequizCuriousCreaturesandhasmadeguest appearances on Would I Lie to You, 8 out of 10 Cats & Countdown. Sheistheauthorofthreebooks–includingtherecentlypublishedThinkingonMyFeet: TheSmallJoysofPuttingOneFootinFrontofThe Other. She has been a columnist for The Telegraph, Top Sante, Country Smallholding and regularly writes for The Telegraph travel and weekend sections.  She set up Humble by Nature, a rural skills centre on her farm in Wales and founded Humble, a range of environmentally friendly, biodegradable bath & beauty products. She was the first female president of the RSPB for 110 years. She is currently president of WWT and is a qualified commercial diver.  If you need barnacles removing from the bottom of your boat, she's your girl.