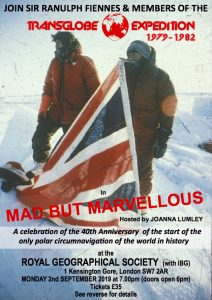 Mad but Marvellous – 40th Anniversary celebration

Date: Monday 2nd September
Venue: Royal Geographical Society (with IBG), London.
Time: Doors open at 6pm for a 7pm start
On the 2nd September 1979, the Transglobe Expedition's ice-strengthened ship MV Benjamin Bowring set off from Greenwich on the start of a three year voyage to complete a longitudinal circumnavigation of the world via both North and South Poles. It had never been done before and no one has attempted to do it since. Described by the expedition's Patron, HRH The Prince of Wales, as"MadbutMarvellous",under the leadership of Sir Ranulph Fiennes and accompanied by Charlie Burton with, in Antarctica, Oliver Shepard, the extraordinary journey covered over 50,000 miles. The team were assisted by Sir Ranulph's wife Ginny who led the basecamp support group, and over 50 volunteers who all gave up three years or more, unpaid, to ensure the success of the expedition, as scientists, ship's crew, air crew for the De Havilland Twin Otter support plane and the team of helpers in London who provided essential back up and logistic assistance.
Borne of an idea by Ginny Fiennes the Transglobe Expedition took seven years to plan, three years to execute and a further two years to wind up. It was without doubt one of the most ambitious private expeditions in modern times and, apart from being the first polar circumnavigation, it also broke a number of records including the first crossing of both polar icecaps. Ran Fiennes and Charlie Burton became the first people ever to have reached both Poles by surface travel.  They also completed the first transit of the North West Passage in an open boat and "Bothie" Ginny Fiennes's Jack Russell Terrier was the only animal ever to visit both Poles. Ginny became the first woman to receive the Queen's Polar Medal and the expedition ship, under the command of Captain Les Davis, reached further north than any previous British ship and as far south as it is possible to go.
Join Ran and his colleagues including Oliver Shepard and Anton Bowring under the supervision of the evening's host, Joanna Lumley, as they tell stories (accompanied by photographs and film) about the expedition and each other – many of which will be revelations never before heard in public. It promises to be an eye-opener!
The talk will be accompanied by an exhibition of photographs by the expedition's photographer, Bryn Campbell, paintings and sketches of the Arctic stage by Maryclare Foa and a number of original artefacts which will be on display at the Royal Geographical Society.
_____________________________________________________
Date: Tuesday, 19th November
Venue: Royal Geographical Society (with IBG), London
Time: Doors open at 6pm for a 7pm start
We are delighted to present yet another great line-up of speakers who have undertaken mammoth endeavours. They are four speakers who share a fascination for discovery and travel in a variety of different ways. The Transglobe Expedition Trust is deeply grateful to the speakers for their support which helps us to raise funds for future endeavours in a way that both entertains and educates us all.
Chris Jewell QGM is an exploratory caver/cave diver who explores new cave passages in the UK and abroad. As a member of the British Cave Rescue Council he was one of the British team responsible for the 2018 Tham Luang Thailand cave rescue. The nature of cave exploration means adapting to meet whatever challenges you come across. Over the last 12 years, Chris Jewell's exploration has had him squeezing through tiny muddy underwater holes in Somerset, digging underwater in the Yorkshire Dales and leading cave diving expeditions to Spain and Mexico where his team established the Huautla cave system as the deepest in the Western hemisphere. The experience and knowledge gained through these expeditions led to his involvement in the dramatic rescue of 12 boys and their football coach from a flooded cave in Thailand. Prior to this Chris has featured frequently as a speaker at caving, diving, outdoor and adventure conferences. Now the spotlight is on cave diving he can tell stories of exploration, adventure and managing risk to a wider audience, through the prism of one of the most dramatic volunteer rescue operations the world has ever seen.
Professor Julian Bayliss is a Conservation Scientist, Ecologist, and Explorer. For 25 years he has worked extensively in many countries across Africa. His work centres on Protected Area management and the creation and conservation of new protected areas ranging from forests to wetlands. He has also organised and led over 50 scientific expeditions in Africa and personally discovered over 20 new species to science, and the largest rainforest in southern Africa at Mount Mabu. His work continues in south-east Africa with focus on the mountains of southern Malawi and northern Mozambique, and the isolated patches of unexplored wet forest found on these sites. Recently he led an expedition, part funded by the Transglobe Expedition Trust, to the forest on top of Mount Lico in northern Mozambique which is a site that is not accessible unless rock climbing is involved. The local people surrounding the mountain knew of no one who had ever been to the forest. This means that the forest is a very rare baseline for climate change studies. When the team accessed the forest, they found several new species to science and also the remains of ancient upturned pottery at the source of the only stream originating from the mountain. This is now a mystery that is slowly being solved. A soil pit was dug to a depth of 2 metres and the soil analysed for carbon content, pollen grains, and evidence of climate fluctuations at intervals to the bottom of the soil pit resulting in a story line going back thousands of years.
Roger Chapman MBE has led or participated in expeditions across the Libyan desert, and down the Blue Nile in Ethiopia and Zaire River in the now Republic of Congo. He has parachuted onto the Jostedals Glacier in Norway and Mount Roraima in Guyana and led expeditions in Honduras, Belize, PNG, Greenland, Cameroon and the North West Province of Pakistan. Unfortunately, he has had the knack of going out vertically and returning horizontally on several of them, proving to be a good advert for medical/travel insurance. He tells of some of the exploits, which made him sick.
Professor Alice Roberts is a biological anthropologist and clinical anatomist, author and broadcaster; she is Professor of Public Engagement in Science at the University of Birmingham, President of Humanists UK, and will be President of the British Science Association this year. She has written and presented many television and radio programmes on subjects ranging from human biology and health to archaeology and anthropology – including five landmark BBC series: Incredible Human Journey; Origins of Us; Prehistoric Autopsy; Ice Age Giants; The Celts , as well as 7 series of Digging for Britain, several Horizon programmes and Channel 4's Britain's Most Historic Towns. In December 2018, she delivered the Royal Institution Christmas Lectures. She's written eight popular science books – on anatomy, embryology, evolution and archaeology. Her latest book,Tamed, describes the evolutionary biology and historical impacts of ten domesticated species; Peter Forbes, in the Guardian, described Tamed as "The best popular book on broad-sweep history since Guns, Germs and Steel". In the course of filming, she has visited many remote places and has explored on foot, by horseback, by kayak, by snowmobile – and by dangling at the end of a rope. In this talk she will recount some of her adventures in Siberia, searching for traces of our own, human ancestors, as well as for extinct megafauna – such as the iconic woolly mammoth – with behind-the-scenes insights into filming in extreme environments.