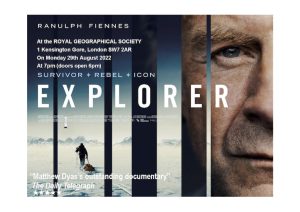 Date: Monday, 29 August 2022
Venue: Royal Geographical Society (with IBG), London
Time: Doors open at 6pm for a 7pm start
Price: £35 per ticket

As some of you may know, the new Ran Fiennes, biographical film "Explorer" has just been released in cinemas but, sadly, for only a very limited run. So, to enable more friends and expedition colleagues to see the film, the producers have kindly agreed to allow a screening at the Royal Geographical Society at 7pm on Monday 29th August 2022 in support of the Transglobe Expedition Trust. That date also celebrates the triumphant return to Greenwich of the Transglobe Expedition members with their Patron, HRH The Prince of Wales, aboard the MV "Benjamin Bowring" on 29th August 1982
So, it's a double celebration – a reunion and a sort of second premiere! Ran and the film's director Matt Dyas will be present to introduce the film and answer questions. Many of those involved in making the film together with his long-standing friends and those who were on some of Ran's expeditions (including a number from the Transglobe Expedition team) will all be present.
The film's distributors, Piece of Magic Entertainment, describe the film thus:
"Sir Ranulph Fiennes is credited as being the World's Greatest Living Explorer. Among his extraordinary achievements he was the first to circumnavigate the world from pole to pole (with the late Charlie Burton), crossed the Antarctic on foot (with Mike Stroud), broke countless world records and discovered a lost city in Arabia. He has travelled to the most dangerous places on Earth, lost half his fingers to frostbite, raised millions of pounds for charity and was nearly cast as James Bond. But who is the man who prefers to be known as just 'Ran'?
Working in collaboration with the British Film Institute (BFI) National Archive, the film makers were granted unprecedented access to Fiennes' personal film collection in illuminating this parable of endurance. "Explorer" tells the definitive story of an inspirational leader but it goes beyond a simple retrospective, ultimately revealing the man behind the myth".
August 29th is a Bank Holiday Monday. I hope that this might make it easier for you to join us for this Gala Charity event. Refreshments are available before and after the screening and there will be every opportunity to meet and talk with those involved in the making of this wonderful, insightful and moving celebration of Ran's extraordinary life. Tickets are £35 from

---